I've been making things...
they aren't done yet.
Maybe tomorrow. Everything takes sooo loong.
I am never happy until...
well until I am.
Which seem to take no less than 16 hours.
Here is a couple of peeks:
And
just in case you are bored
by what seems like redundancy...
Gloria
this time a
different
Gloria.
has bestowed an award on me.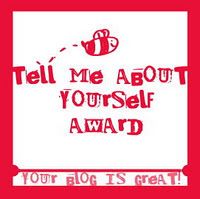 I must tell you 7 things about myself.
And pass it to 15 other people.
Hummmph!
So. I will. Because Gloria is nice.
(aren't all Gloria named people the best?)
1. I can never say no. Actually, since I was 45 I have been saying no, but no one hears me.
2. I wear pajamas all day. Unless I have to go food shopping.
3. I think that I am 32. But sometimes I think I am timeless.
4. I think ALL of the time about heavy-ish shit. I can't stop thinking about things. I think there must be an answer if I keep thinking...
5. I talk to my paintings/art the whole time I am at it...I want them to be happy with who I make them to be. Maybe that's why it takes so long. But I wouldn't be happy if they were just "okay" with themselves.
6. I am afraid that I will never be good enough. At anything. But, I am! And so are you ♥♥♥
7. I hate talking about myself. I feel like I am bragging when it's good, or complaining when it's a gripe. But here I am ...talking about me again.
8. I am an over-achiever. Had to do #8 just to see if you would give me an A+.
So there it is.
And if you want this award, you deserve it.
Take it.
I will happily read about you.
It's on my list of favorite things to do.
Love one another.
♥♥♥